We recently welcomed a new group of co-op students from Drexel University. For the next six months, these students will be working with us on our game development projects.
This new group includes three programmers, a game tester, three 2D graphic artists, a 3D modeler, and a writer. Although they only started this Monday, they have already shown a lot of drive and promise. The first sprint that this group will be participating in will mostly be polish work and implementing a lot of new art assets into the game. One of the most significant goals will be making our new GUI system look a lot nicer (it's about time we did away with the programmers' art work!). We can't wait to see what these guys will add to our team.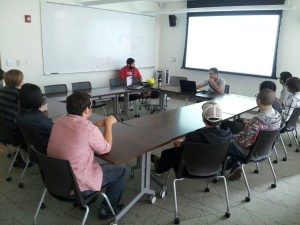 Our new co-ops during their first sprint planning meeting
The Drexel co-op program has been a great way for us to work with bright young people seeking to add some more game design experience to their portfolio. Our industry can be hard to break into, especially on the east coast; so we are happy to spend several months helping these guys and girls learn about working in a game studio. While we hope some of them will come back to working with Skyless Game Studios after graduation, even those who don't will hopefully have gotten a leg up in their career thanks to their time working with us.
For now though, welcome to our new co-ops! We know you guys are going to really impress us over the next six months.